West Nairobi School has selected the Together School Solution to support their school transportation service. Improving overall operational efficiency, increasing safety and improving communications with parents and staff are objectives WNS has for deployment of this service.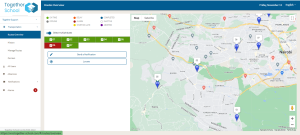 Here from Todd Clark, Business Manager at WNS and Peter Kasema, Transportation Manager share their experience in deploying this solution at WNS as well as some insights and guidance for schools considering such a deployment.
This session will include live demonstrations as well as an opportunity to explore your schools unique challenges and expectations.
Please join us for this insightful discussion.